GOTO Amsterdam (June 13-15, 2016) is a vendor independent international software development conference with more than 60 top speakers and 800 attendees. The conference covers topics such as Microservices, Rugged, JavaScript, Post-Agile, Data, Spring++, Connected Worlds & Philosophy.
Haroon Sheikh, Tweet
Philosopher without Borders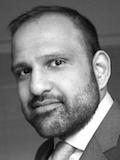 Haroon Sheikh studied philosophy, public administration and political science at Leiden and Oxford University. He wrote his PhD dissertation "Embedding Technopolis" on the impact of old traditions on modern societies. He heads the Research department of investment firm Dasym where he focuses on the impact of technology and changing global relations.
Sheikh is connected to the Freedomlab, a group that helps organizations deal with change. He regularly appears in media like NRC, Het Financieel Dagblad, The Financial Times as well television programs like Het Filosofisch Kwintet and the documentary Kinderen van het Succes. In early 2016 his book "De Opkomst van het Oosten" will appear. Haroon Sheikh teaches philosophy at the Center Ethos of VU University.
Twitter: @HsheikhH
Track:
Philosophy
/
Time: Wednesday 15:50 - 16:40
/
Location: Administratiezaal
As technology is becoming ubiquitous in our daily lives, it is impacting the way we relate to the world and ourselves. What does it mean for our identities when our houses, cars, cities and bodies are becoming "smart"? From the Singularity to Cyborgs and the Matrix, technology is inspiring diverse future scenarios.
In this lecture, we will look at the impact of technology on our daily lives from a philosophical perspective.
Prerequisite attendee experience level: beginner