GOTO Amsterdam (June 13-15, 2016) is a vendor independent international software development conference with more than 60 top speakers and 800 attendees. The conference covers topics such as Microservices, Rugged, JavaScript, Post-Agile, Data, Spring++, Connected Worlds & Philosophy.
Jonathan Sprinkle, Tweet
Distinguished Associate Prof. of Electrical & Computer Engineering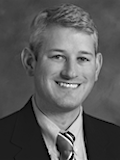 Jonathan Sprinkle is the Litton Industries John M. Leonis Distinguished Associate Professor of Electrical and Computer Engineering at the University of Arizona. In 2013 he received the NSF CAREER award, and in 2009, he received the UA's Ed and Joan Biggers Faculty Support Grant for work in autonomous systems. His work has an emphasis for industry impact, and he was recognized with the UA "Catapult Award" by Tech Launch Arizona in 2014, and in 2012 his team won the NSF I-Corps Best Team award. From 2003-2007 he was at the University of California, Berkeley, as the Executive Director of the Center for Hybrid and Embedded Software Systems (CHESS). He graduated with the PhD and MS degrees from Vanderbilt University (2003, 2000), and the BSEE degree from Tennessee Tech University (1999).
Twitter: @sprinkletoday
Time: Wednesday 09:00 - 09:50
/
Location: Effectenbeurszaal
A computer controlling your car is easy to imagine, but how about a computer saving you money on your energy bills, and helping you predict the impact of your lifestyle changes? The Internet of Things gives us unprecedented access to data from physical objects, but how to you make decisions about these data in a safe, secure, and intuitive way?
I will talk about how fundamental research in Cyber-Physical Systems is paving the way for societal-scale systems where software+communication+control will enable you to decide and be happy with how much control to hand over to the autonomous systems that will surround us in the coming decades.