GOTO Amsterdam (June 13-15, 2016) is a vendor independent international software development conference with more than 60 top speakers and 800 attendees. The conference covers topics such as Microservices, Rugged, JavaScript, Post-Agile, Data, Spring++, Connected Worlds & Philosophy.
Marli Huijer, Tweet
Thinker Laureate of the Netherlands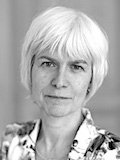 In early 2015 Marli Huijer was named Thinker Laureate. Huijer has a Civis Mundi Chair in Philosophy of Culture, Politics and Religion in the Faculty of Philosophy of the Erasmus University Rotterdam. She is also associate professor of philosophy at The Hague University of Applied Sciences. Huijer studied Medicine and Philosophy (University of Amsterdam). She obtained a doctorate in Philosophy of Medicine in 1996, with a dissertation on Aids and Michel Foucault's aesthetics of existence. Huijer was employed as senior researcher in Practical Philosophy at Groningen University, visiting academic at the London School of Economics and Political Science (UK) and from 2002 till 2005 she was extraordinary professor in Gender and Biomedical Sciences at Maastricht University (Center for Gender and Diversity).
Her research focuses on rhythm, culture and religion; time (how social and technological developments transform our experience and dealings with time); philosophy of science and technology; gender and biomedical sciences.
Track:
Philosophy
/
Time: Wednesday 11:30 - 12:20
/
Location: Administratiezaal
The public sphere, i.e. the realm where private persons meet to discuss public issues and to take action, cannot survive without face-to-face meetings where people openly face conflicting opinions and jointly search for solutions. How do social media, having a deteriorating effect on human communication (Turkle 2015), affect the public sphere?
In quantitative terms, social media may increase the number of participants in public debates. In qualitative terms, however, the critical-rational quality of public debates appears to be degenerating. How to uphold face-to-face conversations, required for a well-functioning public sphere, and still enjoy the opportunities for social connectivity that social media provide?
Prerequisite attendee experience level: advanced