GOTO is a vendor independent international software development conference with more that 90 top speaker and 1300 attendees. The conference cover topics such as .Net, Java, Open Source, Agile, Architecture and Design, Web, Cloud, New Languages and Processes
Adrian Kosmaczewski, Tweet
Mobile App Developer, Teacher and Book Author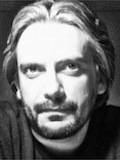 Adrian Kosmaczewski is a software developer, trainer and book author. He has shipped mobile, web and desktop apps for iOS, Android, Mac OS X, Windows and Linux since 1996.
Adrian is the author of "Mobile JavaScript Application Development" and "Sencha Touch 2 Up and Running", both published by O'Reilly.
When not writing or teaching, Adrian likes to spend time with his wife Claudia and his cat Max. He updates his blogs and his Twitter or Instagram accounts ("@akosma") as often as possible, and is happy to have new followers every day.
Adrian has studied physics in Switzerland, economics in Buenos Aires, and holds a Master in Information Technology with a specialization in Software Engineering from the University of Liverpool.
Links:
Personal blog: http://kosmaczewski.net
Open source projects: http://github.com/akosma