GOTO is a vendor independent international software development conference with more that 90 top speaker and 1300 attendees. The conference cover topics such as .Net, Java, Open Source, Agile, Architecture and Design, Web, Cloud, New Languages and Processes
Neal Ford, Tweet
Software Architect and Meme Wrangler at ThoughtWorks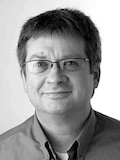 Neal is Director, Software Architect, and Meme Wrangler at ThoughtWorks, a global IT consultancy with an exclusive focus on end-to-end software development and delivery. Before joining ThoughtWorks, Neal was the Chief Technology Officer at The DSW Group, Ltd., a nationally recognized training and development firm.
Neal has a degree in Computer Science from Georgia State University specializing in languages and compilers and a minor in mathematics specializing in statistical analysis. He is also the designer and developer of applications, instructional materials, magazine articles, and video presentations. He is also the author of 5 books, including the most recent Presentation Patterns. Given his degree, Neal is a bit of a language geek, with affections including but not limited to Ruby, Clojure, Java, Groovy, JavaScript, Scala and C#/.NET. His primary consulting focus is the design and construction of large-scale enterprise applications. Neal is an internationally acclaimed speaker, having spoken at over 300 developer conferences worldwide, delivering more than 2000 presentations. If you have an insatiable curiosity about Neal, visit his web site at nealford.com. He welcomes feedback and can be reached at nford@thoughtworks.com.
Links:
Twitter: http://twitter.com/neal4d
Blog: http://memeagora.blogspot.com
Web site: www.nealford.com. He welcomes feedback and can be reached at nford@thoughtworks.com.
Track:
Architectures
/
Time: Monday 11:30 - 12:20
/
Location: Rytmisk Sal, Musikhuset
This session describes the current thinking about emergent design, discovering design in code. The hazard of Big Design Up Front in software is that you don't yet know what you don't know, and design decisions made too early are just speculations without facts. Emergent design techniques allow you to wait until the last responsible moment to make design decisions. This talk covers four areas: emergent design enablers, battling things that make emergent design hard, finding idiomatic patterns, and how to leverage the patterns you find. It includes both proactive (test-driven development) and reactive (refactoring, metrics, visualizations, tests) approaches to discovering design, and discusses the use of custom attributes, DSLs, and other techniques for utilizing them. The goal of this talk is to provide nomenclature, strategies, and techniques for allowing design to emerge from projects as they proceed, keeping your code in sync with the problem domain.