GOTO Amsterdam (June 13-15, 2016) is a vendor independent international software development conference with more than 60 top speakers and 800 attendees. The conference covers topics such as Microservices, Rugged, JavaScript, Post-Agile, Data, Spring++, Connected Worlds & Philosophy.
André Kuipers, Tweet
ESA Astronaut, Doctor & Ambassador of Planet Earth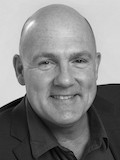 André Kuipers is the first Dutchman with two space missions to his name. His second mission is the longest spaceflight in European history. In total the ESA astronaut spent 204 days in space: 11 days during mission DELTA in 2004 and 193 days during mission PromISSe.
After years of training in Houston, Moscow, Cologne, Montreal and Tokyo, a Russian Soyuz spaceship launched André and his two crew members from Russia and America on the 21st of December 2011 from Kazakhstan. Two days later he arrived at the International Space Station to live and work for six months. On board he was not only a medical doctor, scientist and flight engineer, but also handyman and ambassador for several charities. On the 1st of July 2012, André returned to Earth and landed in his space capsule in the Kazakh steppe.
Astronaut André Kuipers offers a unique look behind the scenes of international human spaceflight. He shares his story about the training, the mission and his exceptional view of our planet.
Twitter: @astro_andre
Time: Tuesday 17:10 - 18:00
/
Location: Effectenbeurszaal
In space you can find an outstanding multinational: the International Space Station (ISS). Realised by the United States of America, Europe, Russia, Canada and Japan.
André was given the great privilege to work in the ISS twice and be a part of ths international enterprise.
The ISS is the largest, most complex, international technological structure ever made by mankind. Working on groundbreaking technology which can exist in an extraterrestrial environment enables us to come to scientific insights about our place in the universe. We gather enormous amounts of information about our own Earth and the life our planet sustains.
In space technology is everywhere: when it comes to medical issues, communications, transport, energy and even when it comes to exercising!