GOTO is a vendor independent international software development conference with more that 90 top speaker and 1300 attendees. The conference cover topics such as .Net, Java, Open Source, Agile, Architecture and Design, Web, Cloud, New Languages and Processes
Ari Talja, Tweet
Rovio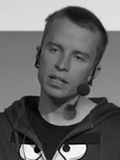 Ari is working as Lead Server Architect in Rovio, the developer of Angry Birds. He is currently leading a group of server side developers to build highly scalable services on top of cloud environments. He has been working in software industry for over 12 years and has been building all kinds of things before joining the gaming industry officially about 1.5 years ago.
The games have always been close to Ari's heart. He has been playing games and developing his own game projects on his free time for a long time. For example, he published three small titles on App Store before joining Rovio
At Rovio we knew we need to go big when we started building our services on top of cloud environment. Angry Birds had grown to such a phenomenon that any service we deploy must be able to handle tons of users. Having any manual steps in the process of deployment would mean unnecessary work and errors. The savings were even more clear once we started adding new data centers to the picture. The automation really helps when you have to set up - not just the services - but also the database clusters, cache servers, monitoring systems, load balancers etc.