GOTO is a vendor independent international software development conference with more that 90 top speaker and 1300 attendees. The conference cover topics such as .Net, Java, Open Source, Agile, Architecture and Design, Web, Cloud, New Languages and Processes
Karsten Telling, Tweet
Software Architect @ Systematic and source of ideas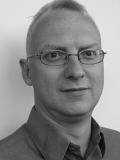 Having an MSc in Physics, Karsten has not taken the beaten path to software development. He has development experience from his own company, CERN, food industry, space, defense and now the public sector. He firmly believes that diverse teams build the best solutions. Not to mention that they are a lot more fun as colleagues. As an architect and a facilitator, Karsten firmly believes in getting every member of a team to perform at his or hers best. People have many more resources to their disposal than they use in their daily work, and as part of a team they discover that the team is more than its parts. A main driver and source of enthusiasm for Karsten is the desire to shape a working environment where he himself likes to be.
In the highly competitive market of toady's software development there is a need for constant change, or more precisely a constant need for newness. Newness obtained through creativity. As we like butter on our bread, creativity should also lead to products. Innovation is a combination of creativity and a final output.

It is our experience that product discovery is not effective in the context of the agile manifesto; hence our focus on innovation methodologies. This allows for discovery of new products and concepts early in the product value chain. Is the combination of having creative methodologies for idea and product discovery combined with the agile development transforming the ideas into real user products an effective way of achieving innovation?
This talk is a story about the failures and success in the effort of introducing a more innovative approach. We will take a look at the company wide innovation days, prototyping team, and customer driven innovation initiatives.