GOTO is a vendor independent international software development conference with more that 90 top speaker and 1300 attendees. The conference cover topics such as .Net, Java, Open Source, Agile, Architecture and Design, Web, Cloud, New Languages and Processes
Robert Bor, Tweet
CTO at 42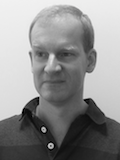 Rob is Chief Technology Officer for 42 B.V. His main focus points are to improve the quality of the products being developed by the company and export the ideas, experience, processes and tools related to quality control to the outside world. Rob is very outspoken on the need for bridging the gaps between the traditional frontend, mid-tier and backend. He insists on searching for better ways of getting things done and is fanatical about operational stability and performance of applications. Growing an organization that thrives on excellence in craftmanship and a deep understanding of all the aspects involved is also very important to him.
Before working at 42 B.V., Rob stood at the cradle of the music distribution platform Fuga, where quality of service is held to a high standard. Among other metrics it contained a code coverage of well over 99%. Before that, Rob worked for ABN AMRO in a Quality Control department to support Java projects with achieving high quality under architecture. Rob is an outside the box thinker with a good feel for the merits of the orthodox. He is always looking for new ways to combine what is already proven with innovative technology and ideas.
Rob still cannot resist the urge of working with code. Every now and then he is pulled back inside, where he feels most at home. Whenever there is a production issue, Rob is likely to be involved in the process of analyzing and fixing the problem.
Twitter: @robert_bor
Track:
Cool Companies
/
Time: Tuesday 14:30 - 15:20
/
Location: Administratiezaal
This is a story about the history of Java, its ambitions and its walk on the Boulevard of Broken Dreams. It is about bloody noses, falling down and getting back up. It is about failing, learning and finally doing it right. It is about being swept by the waves of Hype and Hope and keeping ones head above water. No glorious stories here, consider it more of a self-critical diary of a soldier in Duke's army.
Rob is taking a look at nearly 20 years of Java experience and how this all worked out for his environment and himself. He takes the practical angle by showing where the application of Java did not go very well and were it proved to be useful beyond expectation. At the end of this session you will have a good feel what Java is good for from a historical perspective and when you better use something else.